Though we would love to train your dog forever, our goal is to give you the tools you need to confidently train your dog for the rest of their life so that you don't need us. That's why we don't just train dogs: we teach owners how to train their dogs.
Inquire

Complete a brief online form to inquire about our training services. We'll email you within 2-3 days with information and a tentative start date or your position on the waitlist.

Share

When we are ready to bring you on as a new client, we'll collect background information about your dog and your training goals. We'll send you a welcome packet and schedule your initial consultation.

Consult

Initial consultations last 1-2 hours and are held in your home. We will prioritize your goals and build a custom training plan. If time allows, we will implement some immediate solutions and start training with your dog.
Pricing: Consultation range from $125-$150 for homes within service area ($0.58 per mile for travel outside service area).

Train!

Training sessions last 60 minutes and are typically held on a weekly basis.
Pricing: Our training rate is currently $75 per session. For new clients, sessions are only sold in packages customized to your goals.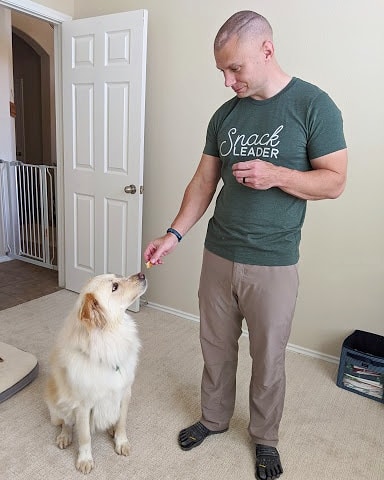 We offer private training lessons with you and your dog in the comfort of your home.
While most people picture taking their dog to a group class, private lessons are actually the ideal option for training your dog. Typically, your home is where the problem behaviors occur and where your dog will feel focused enough to learn. Depending on your training goals, private lessons may extend into the surrounding community. Sessions last 60 minutes and are accompanied by a homework handout for practice between sessions.
We use positive reinforcement training methods that are free of force, fear, pain, intimidation, and coercion.
Instead of "correcting" your dog for doing something 'bad', we work to prevent the unwanted behavior in the first place and teach your dog to do something you love instead. We reward your dog for making good choices and in turn those bad habits are replaced with behaviors you both enjoy. We choose this method of training because it is ethical, effective, efficient, and works for every dog.
Group Classes & Workshops
(Coming Soon)
We are currently on the hunt for a great location in Waco, TX to hold group dog training classes.
Follow us on social media (@theconfidenthound ) to be the first to know when classes become available.
We'd also love to hear from you about what types of classes or special topic workshops you would like us to offer. You can email us your ideas at classes@theconfidenthound.com
Here is a list of classes and workshops we hope to offer to the Waco community:
Puppy Socialization
Basic Manners
Advanced Manners
Introduction to Dog Agility
Reactive Dog Walking Workshop
Happy Vet/Groomer Visits
Dog Shelter and Rescue Support
We've spent over a thousand hours volunteering in shelter/rescue environments and working with families post-adoption to prevent dogs from being returned. Shelter dogs don't necessarily have unique issues that other dogs lack, but the behavior of newly adopted dogs can sometimes be baffling to their families.
With all the behavior problems we have encountered, we've yet to meet a dog who couldn't be improved by positive-reinforcement.
Working with shelter and rescue dogs is very rewarding and central to our mission, which is why we reserve a discounted client spot at all times for a shelter or rescue in need.
Some of the services we offer:
Behavior evaluations and recommendations
Training sessions at your facility or in a foster home
Adoption counseling
Consultation on managing a volunteer program
Seminars/training for staff or volunteers
If you run a shelter or rescue in Central Texas and would like our help, please contact us at rescue@theconfidenthound.com.